Hi Everyone! Want a cool, inexpensive way to get crafting supplies to your door? Want everything pre cut for you? Want the projects to be around 30 minutes of creative time or less? Want to make pretty things but just dont have the room for lots of crafting supplies but would like to complete projects? Are you new to crafting and want to get your "feet wet" with this wonderful craft of stamping and more? Paper Pumpkin may be the solution for you!
Sweep away the mundane – order your Paper Pumpkin today!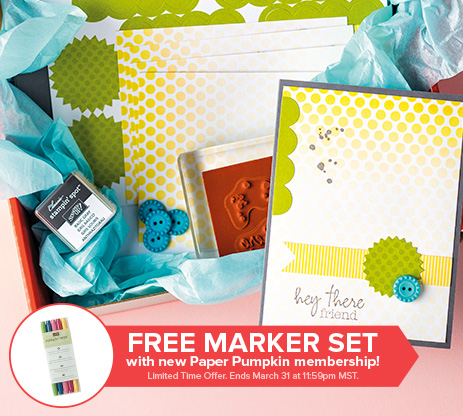 Paper Pumpkin
Just think . . . I come to your door each month (a fully decked-out creativity carriage). I'll help you escape your life with some paper fun. (I'm kinda like your paper fairy godmother—without white hair!) You'll love what you find on the inside: All the stamps, ink, paper, and accessories to create pinable projects. Stuff like cards, 3-D items, and more!
$19.95 / month
Here is my kit that I received at Leadership – I put them together on the plane (except one that I show you how easy this is.. there are cardstock stickers in this kit.. how easy!)
There is the trial kit which will be available in March:
Try Me—You'll Like Me


Available in March
Afraid of commitment? Too much pun'kin for you to handle? You can try me and I'll visit just once. (But I know you'll want me to come back every month.)
• I'm $16.95 (plus shipping).
• I've got all the stamps, ink, paper, and accessories to create beautiful projects.
• I'm all cut, measured, and ready—with instructions included. (Don't worry, I'm easy.)
Visit  My Paper Pumpkin HERE and click on "Get It".. and sign up under me, Dawn Bourgette, as your demonstrator. If you have questions, please feel free to contact me at any time! I have mine put together and will show you soon, what they look like.. so adorable! So easy! So convenient!
Here is the other kit we received at Leadership that I put together on the plane! Easy peasy!!
Thank you so much for stopping by today! I hope you take time to get inky! *hugs*
In need of stamp supplies? Click here to my online store!
Want to join the fun of Stampin` Up! Click here for more information! It's an awesome time to join my team! 
Sale A Bration Brochure – Jan 22 thru March 22