Hello, paper crafting friend! I have VERY exciting news for you! Black Friday is being celebrated early with Stampin` Up! You will want to stock up on lots of great Stampin` Up! products during this great sale! For every $50.00 order with me online at 
my online store,
 I will send you  a set of 
10 handmade cards
, made my yours truly, as a thank you! I want you to know how much I appreciate your business! 
Please use code: MC7DU3CN when ordering online to receive your free gift from me! 
Here is the nitty gritty!
For one week only, November 21-28, you can save up to 40% on select products. To sweeten the deals, we will be having 24-hour sales on the first and last day of the promotion, featuring special products available for that day only. You can even get a sneak peek AND save on products that will be on the future holiday catalog retiring list. I don't want you to miss out on this great opportunity to stock up and save!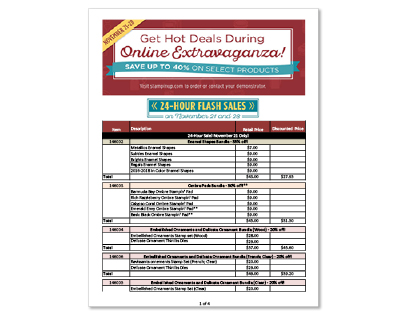 THIS happens on Monday November 21st for 24 hours ONLY! 
Here are the items 10% off until November 28th 2016!
Here are the items 20% off until November 28th 2016!!
Here are the items 30% off until November 28th 2016!!
Here are the items 40% off until November 28 2016!!
I will be out of town for a while on Monday, so if you do call me, please leave me a message and I will get back to you as soon as I can. Or, you may order at my online store! Use code: MC7DU3CN, to receive my free gift to you!
Have a great Monday.. and Happy Early Black Friday Stampin` Up! Shopping Spree Day! Make something pretty and get inky! *hugs*